Hospitality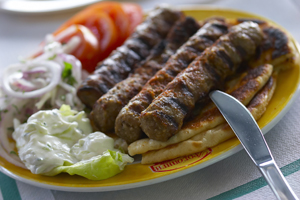 Hospitality is the relationship between a guest and a host that it includes the reception and entertainment of guests, visitors and strangers with liberality and goodwill.
Hospitality frequently refers to the hospitality industry, which includes hotels, restaurants, casinos, catering, resorts, membership clubs, conventions, attractions, special events and other services for travelers and tourists. Hospitality is the practice of showing warmth, cordiality, respect and friendliness to your guests. It may be shown at your home, at any location where you host or even in the manner in which you answer the phone.
The hospitality industry consists of broad category of fields within the service industry that includes lodging, restaurants, event planning, theme parks, transportation, cruise line, and additional fields within the tourism industry. The hospitality industry is a several billion dollar industry that mostly depends on the availability of leisure time and disposable income.
The hospitality industry covers a wide range of organizations offering food service and accommodation; it is divided into sectors according to the skill-sets required for the work involved. Sectors include accommodation, food and beverage, meeting and events, gaming, entertainment and recreation, tourism services, and visitor information.
The hospitality industry is one of the oldest businesses in history and because of its wide range of business activities and specializations it allows students to change fields easily within the industry. People who are interested in hospitality can shift direction as their interests change and grow; hospitality has plenty of flexibility to follow new trends and opportunities and to keep up with rapid technological developments.
There are many divisions of hospitality; the International University Western Humanities collected the most important sections of hospitality field as follows:
Baking and Pastry degree at the International University Western Humanities prepares students for baking and pastry positions in the hospitality industry. Students will develop skills and knowledge necessary for employment...
read more
A career in catering requires knowledge of how to prepare and serve large quantities of food for special events. Caterers are professionals who work for clients that are hosting events...
read more
Chef Training
The International University Western Humanities provide its students with chef training certification that prepares them for high positions in this field; our certificate is designed for...
read more
Event Planning is a relatively new career field. There is now training that helps one trying to break into the career field. There must be training for an event planner to handle all the pressure...
read more
Hotel Management
A hotel management degree at the International University Western Humanities prepares students for employment in hotel, motels, resorts, clubs, cruise ships and more...
read more
Restaurant Management
Restaurant management is the profession of managing a restaurant; restaurant management combines strategic planning, shift pattern organization and day-to-day management activities...
read more
Le cordon blue degree at the International University Western Humanities gives students the culinary arts expertise and professional skills to succeed in as a professional baker or pastry chef...
read more
The travel and tourism industry is a massive global industry that caters for the needs of those who have to travel away from home in terms of providing facilities and services...
read more