Message from the president: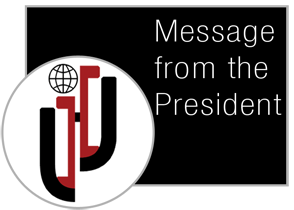 Some people choose to work and practically do something in some specific fields rather than only theoretically study. The Internet is getting to be not only a source of communication and knowledge but also as a source of a real education and real evaluation in daily life work.
We believe that both the practical self-gained experience and the theoretic course knowledge are both required; though we realize that the hard working employees whom dedicate to their jobs deserve an equal evaluation and chance to get promoted and appreciated by their organizations and by their communities.
That was the reason behind establishing the International University Western Humanities "IUWH" and the reason behind our pioneering are not only our years of experience in the educational field on an international level, but also because of our full service for our students, in which our students apply and finish their evaluation exams as quick as few days. Through our university your certificate will be issued and will be legalized at the distant embassies in few days too.
This complete founded system at the International University Western Humanities is made on a very accurate evaluation system prepared and constructed via professional expertise; The International University Western Humanities work to maintain and develop its founded system to give a real opportunity to the student and avoid them the online scamming such as getting a certificate from universities accredited by non-accredited universities itself.
All in all, The International University Western Humanities is where accurately experience got measured.