Art and Design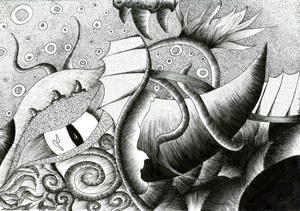 Art is the process of arranging elements to appeal the senses or emotion. It combines a wide range of human activities, creations and modes of emotions including music, literature, film, sculpture, and paintings. Traditionally the term art was used to refer to any skill or mastery but soon the concept changed as turned out to be a special faculty of the human mind to be classified with religion and science. Art has been defined as a vehicle for the expression or the communication of emotions and ideas. It is also defined as the use of skill and imagination in the creation of aesthetic objects or experiences that can be shared with others. Design is the planning of the basis for making of every object or system. Design is often viewed as art with clearly defined purpose; it is more relevant to the applied art such as architecture and industrial design. Design combines the function and beauty.
A designer may follow a series of steps in the design process depending on the product or service.

A design philosophy is a guide to help make choices when designing such as ergonomics, cost, functionality, and methods.
Choose one of the following fields that suits your qualifications:
Fashion design
The International University Western Humanities grant its degree to individuals working in the field of fashion design. It provide the student with the...
read more
Fashion merchandising
The International University Western Humanities prepare students for exciting career opportunities and is designed to provide the skills needed to be successful in...
read more
Retail management
Fashion retail management is about learning sales, buying and merchandising strategies pertinent to the field. Students in the International University Western Humanities will earn...
read more
Our university provides experience necessary for a career in the television and movie industries on the production side. Strong skills in computing and digital experience are particularly important today-- the film and television...
read more
Furniture design
The importance of furniture designing is growing rapidly. The process of furniture design demands creativity, business awareness and skills in marketing, finance, sales and ...
read more
Jewelry design & repair
The International University Western Humanities will introduce students to more fundamental and career specific principles and training. This will help them prepare for their career...
read more
Advertising and commercial design
Advertising and commercial design represents a practical, real-world application of the visual arts field. Advertisers and commercial designers basically create an image meant to draw the public toward a particular ...
read more
Visual Communication
Visual communication certificate awarded by the International University Western Humanities is offered to students who wish to expand their technical knowledge using software tools for Visual Communication...
read more
Floral design
Skilled floral designers are always in demand. The International University Western Humanities provides a strong certification based upon good materials, realistic studies...
read more
Interior decorating
Interior design is a multi-faceted profession in which creative and technical solutions are applied within a structure to achieve a built interior environment...
read more
Animation
The International University Western Humanities provides its certificate of animation study to all students intend to work in animation industry, this certificate will support students to find a creative career...
read more
Video game design
The International University Western Humanities offer its certificate upon specialized qualifications in the field of game design. Having a degree in video game design can definitely help...
read more
Web design
Web design certificate of the International University Western Humanities promotes student to find good job opportunities and give them the ability to gain the skills...
read more
Music education
Our university seeks to develop the whole person through the music education; a real recorded video would increase the accredited grades...
read more
Photography skills are needed for jobs in almost every industry so photographers always search for degrees to expand their experiences to get better opportunities. Our Photography degree...
read more
Our university is committed to improving the experience of who works in theatre arts professions. Through our certification Students will develop practical and artistic skills...
read more